Hawthorn Class
Mrs Marriott's Y1/Y2 class
We have started the year learning about DINOSAURS.
We all enjoyed our walk around the Stone Centre learning about fossils.
Did you know there was a volcano in Wirksworth?
We all enjoyed our Harvest Sponsored Walk. We looked for the harvest pictures that led the way.
Mrs Poyser gave us a snack at the Stardisc.
The children were asked which liquid would be the best to add to bicarb of soda to make the best erupting volcano.
Lemonade, water or vinegar?
A lot of the class predicted lemonade as it has bubbles... try the experiment yourself to see which one made the fantastic volcano.
The topic this half term is Carnivals. After learning about the history of carnivals in Africa we created African masks from recycled materials.They look wonderful in our garden!
We enjoyed our Easter service. We performed the Spring poem we had written together and showed our beautiful Spring tree paintings.
It has been an exciting week seeing our eggs hatching and the 9 chicks growing
For our topic of Up,Up and Away we have learnt about Montgolfier brothers inventing the first hot air balloon and the Wright brothers inventing the Wright Flier. We enjoyed imagining we were going on an aeroplane on holiday.
Our Christingle Service at St Mary's Church was a lovely service and we all performed a poem about light during the service.
Our visit to Wirksworth Library to hear some stories and to choose a book to take home.
During Our Fire and Ice Topic we loved our trip to the local Fire Station. We learnt about fire fighting now and thought back to how they fought the fire during the Great Fire of London.
What a busy start to the new year!
Here is some of the maths work we have been doing so far this year.
What fun we have been having whilst working hard!
We all enjoyed peeling apples and making apple pies for the harvest sale.
They were yummy!
We all enjoyed our Harvest Walk to the Star Disc.
We looked for the different pictures of trees.
We all took part in HEALTHY LIVING DAYS.
We spent time naming different trees on the park and then exploring the new different play equipment on the park.
Reception and Year 1 rode balance bikes, the Year 2s rode their scooters and we all learnt about road safety.
Farm Day
Mrs Matkin told us all about living on a dairy farm. We learnt about the different foods the animals eat and what we can make from milk.
We even tried milking a cow!
SPORT RELIEF
We all enjoyed the morning being sporty. we had a challege to see if, as a Federation, we could climb the Eiffel Tower!
1655 steps and not only did we do it, but we went up and down 3 times!
We all enjoyed the dancing too for our warm up.
We all had great fun using our new cooking area. We practised our rolling and cutting skills making mini beast biscuits.
We also decorated cakes for the Easter cake sale.
What an exciting afternoon we had when Zoolab visited us with all their animals.
We saw lots of different mini beasts, we could touch and hold some, we also learnt lots about them.
Year 2s had their MINI LEADER training. They learnt what it means to be a leader at lunchtime and then enjoyed taking part in some of the activities.
They will start being Mini leaders on Tuesdays and Fridays from next week.
WORLD BOOK DAY Our fashion parade of our costumes from Julia Donaldson books
As our topic this half term is Mini beasts we have been taking part in different orienteering activities in PE.
What shall we be doing next week?
Some photos of us all enjoying different maths lessons overly the last half term.
We enjoyed our termly visit to the library. We listened to some lovely stories then had time to enjoy a book on our own or with a friend.
We had great fun on Pancake day. Tasting different toppings in the morning and then taking part in pancake races in the afternoon...
We enjoyed our Space Topic.
We had a great day at Leicester Space Centre exploring the rockets, planets and what it would be like to live in space.
We have had a great start to the year with our topic of DINOSAURS.
We learnt about fossils on our trip to the stone centre.
Our Year 2s enjoyed using their map skills to explore the different sculptures at Chatsworth.
Some of the activities we have taken part in this half term.
This half term our topic is How Does Your Garden Grow? We have enjoyed learning how plants grow and the world around us changes with each season.
At the beginning of year our topic was Up, Up and Away
We started learning about Leonardo da Vinci and the flying machines he designed 500 years ago but never saw built. We designed our own machines and then built them.
We have learnt how hot air balloons were invented and enjoyed using Papier-mâché to make a balloon.
Our topic was Down on the Farm
We learnt about the different animals to be found on the farm and the crops they grow.
A main focus this half term was the sounds we can hear down on the farm and around school. How do we make the sounds and how do we hear them?
We all had a fantastic Woolly Week which started with Mrs Birch bringing 2 of her sheep into school and her brother showed us 2 different ways to shear a sheep. We then enjoyed working with local spinners who showed us how to card the fleece. We then had a go at weaving and spinning. The next day Mrs Bowler brought in her 3 week old lamb called Snowy.
Mrs Urquhart then helped us all to make felt balls and turn them into felt flowers.
Our topic last half term was 'The Very Hungry Caterpillar'. We learnt about different mini-beasts, their life cycles and habitats. We read different Eric Carle books and wrote our own story in the style of this author.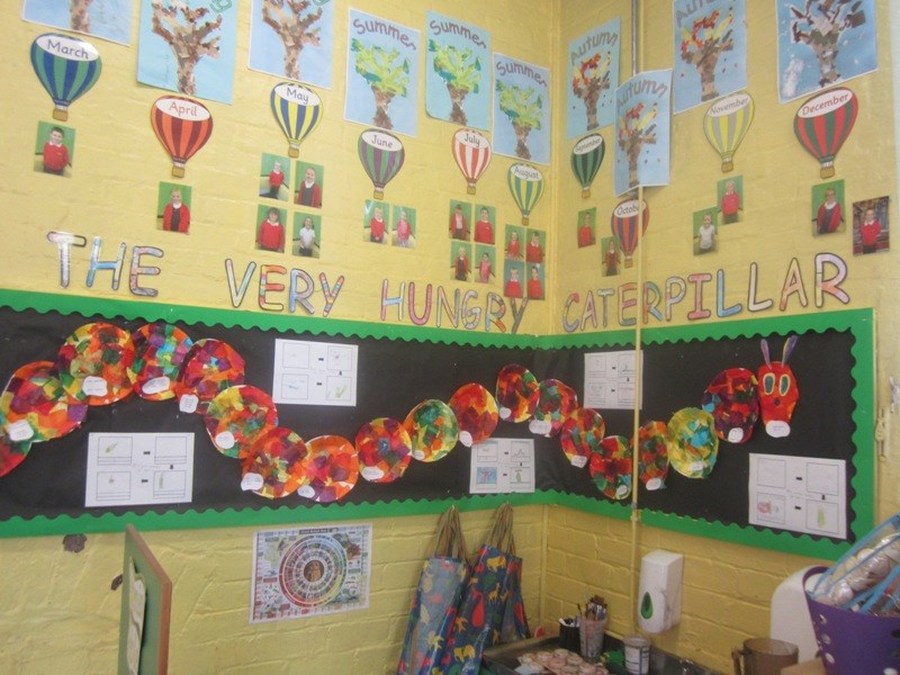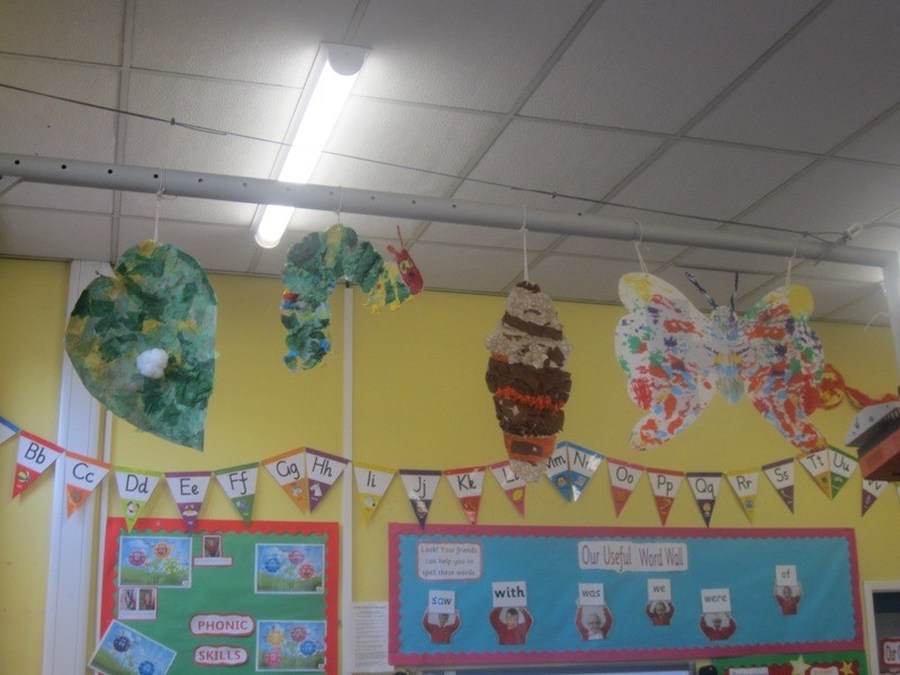 We all enjoyed taking part in the sponsored bug hunt, which took us up to Black Rocks. We had fun looking for the different m which were showing us the way.
Zoolab gave us the opportunity to see and touch mini-beasts with a difference. We all had a great time and learnt such a lot from Emma.
We all enjoyed making special sandwiches using the butterfly and caterpillar cutters. Very yummy!
We have had a busy week with Shrove Tuesday and pancake races as well as World Book Day.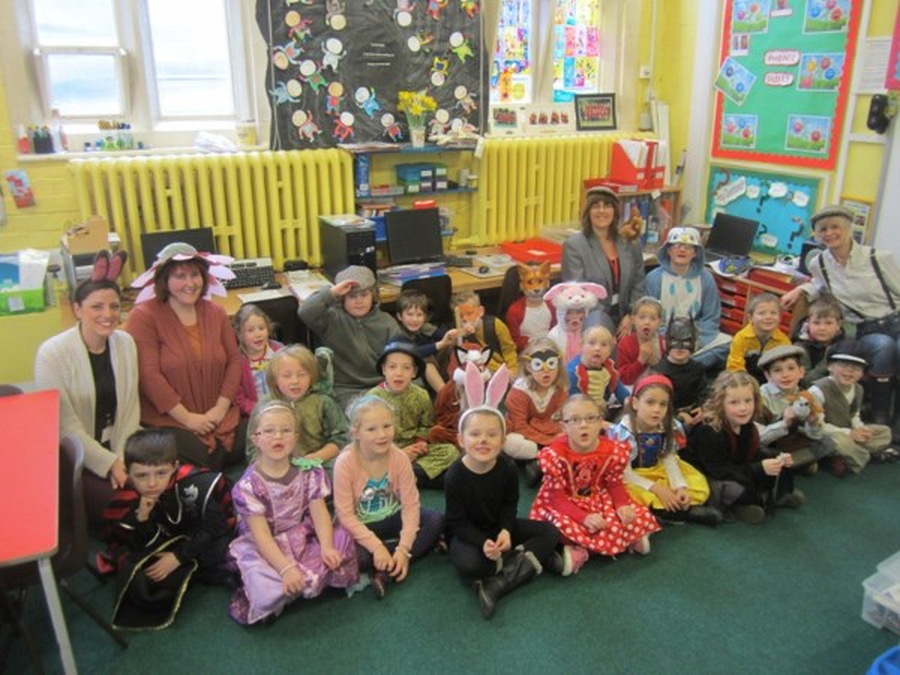 At the beginning of the year we were enjoying our topic Space. We learnt about our Solar System and the different planets. We researched the Space Race and thought about what it would be like to walk on the moon.
We used our imagination to write alien adventures and make mini videos of our stories.
We all enjoyed our day at the National Space Centre on Tuesday 4th February.
We learnt about being astronauts, explored different rockets and enjoyed the activities learning about space and the planets.