Sycamore Class
September is here again and welcome to the new year two children in Sycamore class.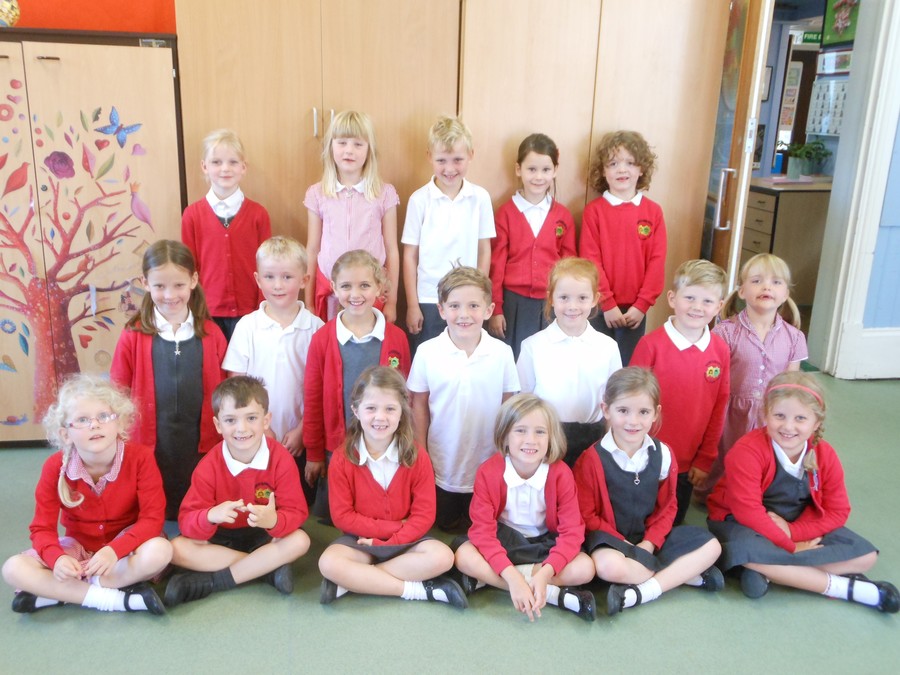 Wirksworth Festival.
The children of Sycamore class were asked to make clay figures to be displayed in Saint Mary's Church during the festival.
They all had a great deal of fun squashing and squeezing their clay to look like mini beasts, wild animals and people.
After the festival all of the clay figures made in Wirksworth were transferred to Stoney Wood so that the could return to nature by being exposed to the elements. We saw them when we went on our Harvest walk.
Harvest Walk and celebrations.
We went in to the woods and walked to the Star Disc for our harvest celebrations. As we walked we 'spotted' different types of trees and plants that were growing and talked about how the plants were beginning to change. We saw fruits and berries that nature was providing to feed the wildlife over the winter. It was a beautiful, sunny day and we sang celebration songs and had our drinks and snacks out doors.
Keeping fit and raising money for fabulous things to use in school. As a whole school the children completed 1226 circuits of the apparatus set up in hall at the Infant School. Sycamore class went last and needed to do fifteen each to reach the target. WE DID IT! and all that fun raised nearly £600. Thanks to everyone who took part.
We were very lucky to have the ex-servicemen of the British Legion come and lead an assembly and talk about the importance of Remembrance Day and the symbol of the poppy.
The children made poppies to wear at the War memorial when they went on the 11th day of the 11 month and 11 in the morning to lay a wreath on behalf of the Federations staff and children. Sycamore class were joined by the years two's from Hawthorn class.
Looking back at 2015/2016
Mrs Blenkinsop's Y2 class
Well here we are the new year 2's, it's been a really busy half term already. We have had fun indoors and outdoors learning about everything from dinosaurs and their fossils to measuring.
The new classroom is finished and we enjoyed a wonderful day in the sunshine with visitors from the council to open it. We planted some lovely plants in the playground and had fun singing altogether.
It was fantastic to visit the National Stone Centre.
We walked there through Stoney Woods, it was a bright and sunny autumn afternoon. The volunteers there told us all about the fossils we could see and how Wirksworth was once underwater!
We made models of fossils out of plaster of Paris and bought them back to school.
We made our own dinosaur fossil pictures out of art straws after we learnt about Mary Anning and her amazing life finding fossils in Lyme Regis.
Another outing!
Early October gave us the chance to be out and about again, this time to visit the wonderful sculptures on show at Chatsworth.
The last autumn sunshine made it a really special event that was enjoyed by everyone.
Back in the classroom.......
We love our outings but working in the classroom is just as much fun. We have been using the computers in maths and learning how to estimate, measure and use our problem solving skills.
Our special visitor.
At the end of last half term it was our great privilege to welcome a very special guest to Wirksworth.........
Welcome back after the half term break!
We had some very special visitors in school to help us to understand why Rememberance Day is so important. They came and told us about the medals they had won when they were in the army, the navy and the airforce.
We gave them a special poppy wreath that we had made, this was to say thank you for all the time they give to school.
At 11 O'clock on the 11th day of 11th month the Year 2 children from both schools joined the community to remember those who fought for their country in all wars.
Christmas was suddenly upon us! The weather had been so mild that our snowman biscuits all melted, and the snowmen were not very happy!
This year we went on a wonderful Reindeer Ramble up in to the woods, where we met a very special man and we sang him some jolly Christmas songs.
Happy New Year!
Our new topic is 'Space'.
We have been learning about the planets, what they are made of and how Neil Armstrong was the first man to walk on the moon.
We have made a 'Galactic Gallery' showing our representations of Starry night and the order of the planets.
Off to the Space Centre.
As Tim Peak set of for the Space Station we set off to the Space Centre, there we explored the differences in the pull of gravity on the different planets and how it made it easier or more difficult to list a can of baked beans.
The children thought the sitting room, that has been made to look like it would have done the day of the moon landing, very strange. According to one of the children there was 'a really weird computer' on the table - it was an old fashioned typewriter!
They loved being in the astronaut suit and the planetarium show.
Our Fantastic Space Day!
All of the Year One and Two children joined together for a wonderful day of Design and Technology, P.E., Art and most importantly.......... FUN!
We made play dough aliens, we played moon football, we created our own planets and rockets out of Lego to get there and we made lever pictures to make the rocket go over the moon.
Pancake Day ......mmmmmm
We celebrated Shrove Tuesday with a joint assembly where we learnt about the meaning of Lent and why people began the tradition of pancake day.
We tasted different toppings for pancakes and made tally charts and block graphs to represent the data.
In the afternoon we had pancake races.
Welcome to our mini-beast half term!
We have been looking at a wide range of mini-beasts and learning about the life cycle of a ladybird. We made amazing ladybirds to show our understanding of how ladybirds live.
World Book Day
Our school theme for world book day was the books and stories written by Julia Donaldson. Years One and Two read 'The Flumflum tree' and did some amazing work about Jack's adventures in the book.
The children, and staff, all dressed up as their favourite character from one of Julia's books. They all looked AMAZING! Well done to everyone.
It might have been world book day but we still had to work!!!
Wirksworth Community Wonders!
P.C. came in to give us our Wirksworth Community Wonders stickers for all the brilliant things we do both in and out of school. She comes in every half term and gives us stickers, which were designed by the children here, for all different things - from road safety to recycling and healthy eating. We all really look forward to her visits.
More mini beasts!
Only these were not quite so mini! Zoolab came in to school and bought Giant African land snails, an African millipede, a Madagascan hissing cockroaches called Steve, a bearded dragon called Molly, Sizzle the corn snake and a tarantula called Bella to see us. The children learnt about their habitats, what they like to eat and the best way to look after them.
The children where given the opportunity to touch or hold our visitors and they were all very brave!